<![if !IE]> <![endif]>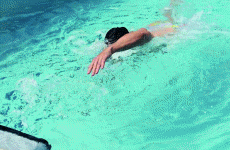 SWIMEO is the new counter-current solution by SIREM:



- Efficient with a thrust force of 250 m3/h at the exit)

- Comfortable, like in a "river" flow with a width from 1m up to 2m

- Compact with only 30 cm of depth (35 cm for the outboard version)

- Silent: no noise perceived by the swimmer

- "Peace in mind" with no wall crossing and no maintenance required



SWIMEO range:



- SWIMEO MODEL A (original equipment manufacturer): a built-in version mainly intended for pool builders looking for integrating a countercurrent swimming turbine in their offer. It must be integrated behind a protective grid (not included).



- SWIMEO MODEL S: an outboard version designed for customers who retrofit their pool. Its small size (only 35 cm of depth) allows it to perfectly blend into your pool. It can be fitted in any pool and easily installed in 2 hours (by a professional pool contractor). No structural work is required for its installation.



SWIMEO whether MODEL A or S is designed for the whole family, providing a flow larger than the current solutions on the market. Each swimmer, from beginner to amateur level, will be able to control the power of the flow by adjusting the speed and by positioning himself more or less close to the turbine.

The SWIMEO range comes with a smartphone App, Android and iOS compatible, for controlling or creating training programs, choosing the speed, duration and number of repetitions, alternating between intense and recovery periods.



SWIMEO by SIREM, swim with no limit !

Chemin du Pilon 3
01700 ST MAURICE DE BEYNOST
France